About Our Church
We held our first worship service in a Sun City Recreation Center on November 3, 1974, led by founding Pastor, Dr. Hartzell Cobbs. Fifty-seven people attended.
We grew over the next four years, committed to build a church, purchased a lot and broke ground on April 2, 1978. The first worship service in the current building was on May 6, 1979, with 450 members in attendance.
Founding Pastor Hartzell Cobbs retired in 1982, and was replaced by Dr. Mark Randall, who was succeeded by Dr. Donald Farrior in 1988, and he by Dr. Scott Pricer in 2002. Dr. Pricer retired in 2007. Dr. Steve Minor came to Sun City Christian Church in June, 2008 from the Midwest. His wife Kay is active in our Chancel Choir and loves to cross-stitch. Some of her works include the Last Supper and Jesus Praying for Jerusalem which are on display in Dr. Steve's office.
About Our Doors
The plan for meaningful carved panels for the doors of the church was made before the building was begun, and the doors were specially designed by the architect with removable panels to facilitate the project. There is a total of sixty-nine carved panels, all done by noted artist Oliver Knutson. The picture and scripture panels are an outstanding artistic accomplishment of which we at Sun City Christian Church are justly proud. Full appreciation requires some up-close viewing and study.
About the Christian Church (Disciples of Christ)
Early in the 1800's two separate but similar movements in the development of new Protestant faiths, with roots in Ireland and Scotland, but with distinctly American frontier flavor, took shape in Kentucky, Pennsylvania and (West) Virginia. They recognized their commonality, held joint "Camp Meetings," and in 1832, formally joined efforts.
The distinguishing features of the Disciples of Christ are the minimizing of historic creeds as tests of faith, the belief that the Bible is sufficient as a guide, the practice of Baptism by immersion, the celebration of Communion every Sunday, and an emphasis on the pivotal role of the laity in the leadership of the congregation. Today it is one of the largest churches founded on American soil, more than 850,000 members in nearly 3,900 congregations across the United States and Canada.
About the Chalice
The Logo of the Christian Church (Disciples of Christ) is a red chalice with a white Saint Andrew's cross. The chalice represents the centrality of the Communion to the life of the church. The cross of Saint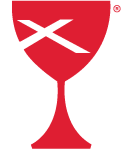 Andrew is a reminder of the ministry of each person and the importance of evangelism, and recalls the denomination's Scottish Presbyterian ancestry. The symbol was designed in 1969. The chalice has become a simple way to identify Disciples of Christ Churches through signage, letterhead, and other forms of publicity.